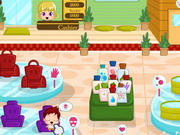 Spa Care
File Size: 950.16 Kb

Add This Game to Your Site:

Link to The Game:

Spa Care is an Other game on GaHe.Com. You can play Spa Care in your browser for free. You are going to run a spa salon in your town. So it is very important to know everything about all spa procedures. Your visitors will ask different services, and you have to bring them what they ask. Earn money, buy upgrades for your salon and make your visitors happy.