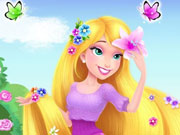 Long Hair Princess Rescue Prince
File Size: 22.78 Mb

Link to The Game:

Long Hair Princess Rescue Prince is a Dress Up game on GaHe.Com. You can play Long Hair Princess Rescue Prince in your browser for free. Rapunzel's hair has magical powers. The evil witch stole the princess's hair and imprisoned the princess in the garden. A long time later, an unfamiliar man entered the garden by mistake. He was seriously injured and unconscious. First, he used scissors to cut the whole body entwined with vines, then mixed herbs to clean up the wounds, and finally collected the dew on the lotus leaves and fed him to drink. Water, help the princess to rescue the stranger. After the stranger wakes up, help the princess escape from the garden, prepare hair dye to restore the original golden color of the hair.
Control: Click and drag the mouse to play.