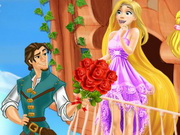 Flynn and Maximus saving Rapunzel
File Size: 4.94 Mb

Add This Game to Your Site:

Link to The Game:

Flynn and Maximus saving Rapunzel is a Skill game on GaHe.Com. You can play Flynn and Maximus saving Rapunzel in your browser for free. The prince is eager to get to the princess in this horse farm game because she is waiting for him for quite a while. The issue is that there are plenty of obstacles in his path and you will have to make an effort to get there. Jump over all the fences and fallen logs and this way you will not trip and fall. Collect the apples and carrots for energy and soon enough you will make plenty of progress. There are also quite a few bonuses waiting for you and if you collect those you can gain more speed or invulnerability. Finish all the lovely levels and you will meet the princess. Try not to fall too many times in this horse running game.
Control: Use the mouse and click when you want the prince to jump.