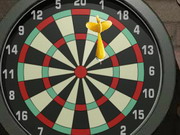 Darts4Smarts
File Size: 844.62 Kb

Add This Game to Your Site:

Link to The Game:

Darts4Smarts is a Skill game on GaHe.Com. You can play Darts4Smarts in your browser for free. Here is a deal. Take your lucky dart, close all numbers from 1 to 20 including bull's eye quickly and precisely as possible, and we will put you on the highscore list. Fair enough? Also check this game for one additional extra feature never seen before. Be smart.