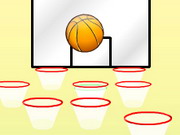 Nothing But Net
File Size: 678.8 Kb

Add This Game to Your Site:

Link to The Game:

Nothing But Net is a Sports game on GaHe.Com. You can play Nothing But Net in your browser for free. There are 9 baskets in this game, 3 of them are moving. You need to shoot all the 9 baskets. You can control the force of shooting by controlling the time of release of the mouse button. If you can make nothing but net shots, you can score more.
Control: Shoot the ball to all the baskets. You score more by making nothing but net.