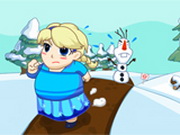 Elsa Field Loss Weight
File Size: 1.61 Mb

Add This Game to Your Site:

Link to The Game:

Elsa Field Loss Weight is a Skill game on GaHe.Com. You can play Elsa Field Loss Weight in your browser for free. Frozen queen Elsa likes to eat all kinds of dessert cake, resulting in her weight is increasing, became a fat queen. So she determined to lose weight, and Olaf together to field running and climbing, across a variety of hazards, let us to lose weight and Elsa!
Control: Elsa A/D to move,W to jump. Olaf arrow key to move and to jump.