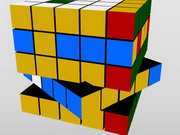 Colour Cube
File Size: 465.78 Kb

Add This Game to Your Site:

Link to The Game:

Colour Cube is a Puzzle game on GaHe.Com. You can play Colour Cube in your browser for free. Remember the classic rubix cube? Did you love it? Well now you can do lots of variety with more or less cubes than the normal version.