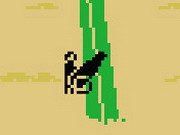 Cannon Fighter
File Size: 133.99 Kb

Add This Game to Your Site:

Link to The Game:

Cannon Fighter is a Shooting game on GaHe.Com. You can play Cannon Fighter in your browser for free. Cannon Fighter was a 8-bit game for the MSX home computer. Move the weapon with the left and right arrow. Choose angle of the cannon with cursor up and down.